Town & Country has been the premier editorial voice in jewelry for over a century. To mark this distinction, and recognize the unparalleled talent in the contemporary jewelry world, we have announced the debut of the Town & Country Jewelry Awards. The winners will be selected by a committee of experts including our Editor in Chief Stellene Volandes, considered a leader in the field, and Fashion Market and Accessories Director Will Kahn. The announcements will be made in the February issue of Town & Country and will be celebrated at a live event in Spring 2018. In her October Editor's Letter, Volandes announces the awards.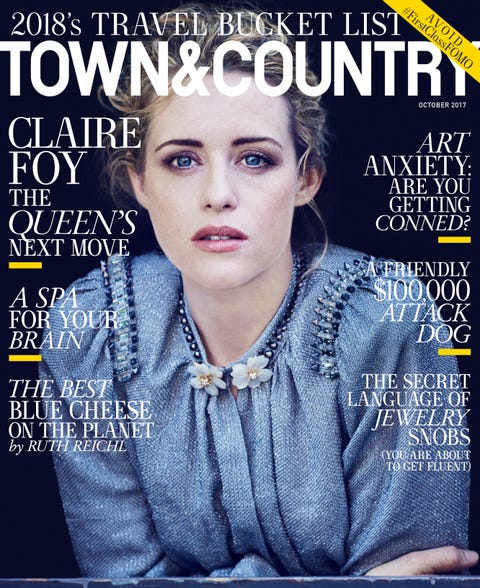 THE TOWN & COUNTRY OCTOBER ISSUE.COURTESY OF HEARST
Soon after I moved back to New York, post-college, I lived in a building with a jewelry gallery on the ground floor. Primavera showcased an eclectic array, from pieces by the grand houses to one-of-a-kind design experiments by Alexander Calder and Ettore Sottsass.
The owner, Audrey Friedman, knew things about jewelry I had never thought to ask of a bright and shiny object before. When was it made? What was happening in the world that made these materials available? What inspiration-triggering travel routes had opened up that year? Audrey taught me to ask those questions of every piece I had the privilege to look at, and she let me try them all on, too.
I was in grad school then, so there was nothing in it for her. I wasn't in the market for a Van Cleef Zip necklace, and I had no magazine in which to feature a Cartier Sputnik brooch. She treated my visits the way a museum curator might treat an exhibition tour. Jewelry was an art form to admire, understand, educate yourself in. Her collection was for sale, obviously—and years later I did buy myself something—but no one who walked through her door was ever turned away. The jewelry was kept in vitrines, but it was not off-limits.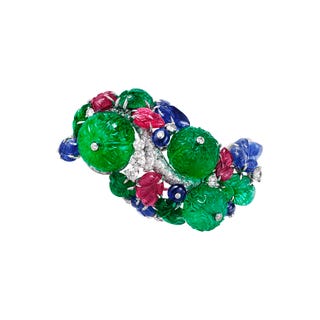 CARTIER'S ICONIC TUTTI FRUTTI DESIGN, MARKED BY COLORFUL AND CARVED STONES, RETURNS IN A NEW HIGH JEWELRY COLLECTION BETWEEN OCTOBER 21 AND 29, 2017.SOTHEBY'S
Those visits, I am quite sure, influenced what I like to call my jewelry evangelism: a mission to make people understand jewelry as a cultural artifact and to appreciate it even if they never own a single piece. Most of us will never buy a Picasso, but we all analyze and stand in awe of Les Demoiselles d'Avignon. And so I expect to see you all on the corner of 52nd and Fifth between October 21 and 29, when Cartier will host the largest public viewing of high jewelry in the U.S., including some of the house's legendary Tutti Frutti pieces, one inspiration for its new Résonances de Cartier collection.
And I hope you will all join me in celebrating the premiere of the Town & Country Jewelry Awards, which will be announced in the magazine and with an event at Hearst Tower in 2018. It is my own mission accomplished.
For more information about the Town & Country jewelry awards, please contact tcjewelryawards@hearst.com.STELLENE VOLANDES Editor In ChiefStellene Volandes, Town & Country's editor in chief and known jewelry expert, is the author of Jeweler: Masters and Mavericks of Modern Design (Rizzoli) and speaks frequently on the topics of luxury and jewelry, including her own series of Jewelry Talks at the 92nd Street Y.
2018
A short but delightful book — "Diving For Starfish" by Cherie Burns has just come out. She writes about her fascination with a wonderful piece of jewelry — a large, articulated star fish in rubies and amethysts made by the French house of Boivin for Millicent Rogers in the 1930's. When Cherie first approached me for any information I could share with her, I wondered how she would be able to make what seemed a slim subject into a book, but she has succeeded brilliantly. Primavera Gallery is mentioned on pp 57 – 60.
2017
This was the first year for this fair, which was formerly the Haughton International Fair. TEFAF is the group that runs the great Maastricht Fair in March, and they have brought their expertise and great discernment to NY – we were very pleased to be invited to participate.
The Rapaport Magazine is about much more than diamonds. They frequently have articles about interesting period jewelry, and we are usually asked to provide relevant quotations. The June issue issue has an excellent article covering jewelry from Art Nouveau through today – a good and concise over-view.
If you would like more information on Art Deco jewelry, and also on jewelry of the 1930's and 1940's, see my blogs – Art Deco Jewelry In Black and White, Art Deco Jewelry In Color, and Modernist Jewelry.
2015
We were delighted that one of our beautiful pieces at the Haughton International Show at the Park Avenue Armory in New York City was chosen by New York Times critic Ken Johnson as one of the 11 highlights of the Fair. It is a exquisite jewel of a painting by Jean Dupas, a complete miniature of his Les Pigeons Blancs. The final painting has disappeared, and this is the only complete record of it.
2014
We were very pleased to have loaned several pieces to the beautiful David Webb exhibition held at the Norton Museum in Palm Beach this past winter. We were delighted that they chose this beautiful shell brooch for the invitation to the inaugural dinner.
We are thrilled to have had some of our beautiful Pierre Sterle jewelry included in an article about Sterle in the current issue of Solitaire Magazine.
2012
The Modern Sybarite wrote a great article featuring our own Seguso White Merlett Murano glass! Check out his blog to read more!
We are very proud and honored that a piece of glass from our gallery was selected to be included in New Glass Review. Over 2,500 images were submitted to the four jurors, who selected the best 100 pieces for this review.
2011
Check out Pin-Up Magazine's Fall/Winter 2011 Issue to see our Centerpiece by Hans Hollein.
Look for our Sterling Silver "S" Brooch, by Alexander Calder, in Art + Auction Magazine's November 2011 Issue.
Our Jaeger-LeCoultre Gold and Diamond Bracelet/Watch and Andrew Grima Pearl, Topaz, and Gold Necklace were featured in Art + Auction Magazine's October 2011 Issue.
Did you see the beautiful feature about Primavera Gallery on 1stdibs "Shop Talk"! Click here to go view the article, written by Susanna Salk, on 1stdibs.com.We are delighted to be included in the February 2011 issue of Palm Beach Young Society. Featured are our fabulous Salvador Dali ear clips modeled as stylized phone receivers, ca. 1949.
2010
The December 2010 issue of W magazine features our Wedgwood, 18K gold, diamonds and porcelain, earrings in its Maxi&Mini spread (page88). Take a look.
"Sculpture Class" an article by Sarah Taylor, in the August 2010 issue of W magazine, tells the humorous story of how Audrey Friedman wasn't turned-off by a sign that read "World's Ugliest Jewelry" and in turn came away with some of the world's prettiest, and most unusual, rings. Jewelry featured: (top) 18K yellow gold, topaz, and diamond ring, ca. 1958 $4,500. and (center) Jaeger-LeCoultre 18k yellow gold and citrine watch, circa 1935, $45,000.
The last page (Editor's Choice, page 96) of the April 2010 issue of Art+Auction certainly deserves your attention. Yes, this incredible Cartier Elephant bracelet is ours, and yes, it is for sale, meaning that it can also be yours.
Did you see Doris Goldstein's great article "The Ingenious Gemwork of Andrew Grima" in the Winter 2010 issue of Modern magazine? If not, it is definately worth your attention. Not only is the article very informative but it is beautifully illustrated with some wonderful Grima pieces (some are part of the Primavera Gallery collection). We are lucky to have such fabulous Grima pieces…they can also be yours…
Rosanne Raab has written an interesting and informative article, Fork+ Food, for the January/February 2010 issue of Silver Magazine. In this article she features a piece from our collection, a magnificent fork by Archibald Knox.


Did you miss THE MARTHA STEWART SHOW on Monday, February 8, 2010? Our beautiful VC&A Cupid brooch was featured as well as the rare and unusual Georgian lock and key ring (yes, the one that Martha wore on her finger!)…If you missed the segment check out the link

http://www.marthastewart.com/article/romantic-vintage-jewelry

…But to see the jewelry, come and visit us in Chelsea!
We have just returned from participating in the Palm Beach Jewelry, Art & Antique show and received great press that we would like to share with you. Our David Webb "Ram" bracelet, which once belonged to socialite Carolyn Ryan Foulke, was featured on the front page of the Palm Beach Post ACCENT section (Thursday, February 11, 2010).
We are always delighted to educate young collectors about what we do. Here is an article, "West Palm Sparkles and Shines" (February 22, 2010) about our jewelry at the Palm Beach Jewelry, Art & Antique show as written by Jen Herring and published in Beacon Blog, the official student blog of the Beacon student newspaper of Palm Beach Atlantic University.
2009
The gallery's glass collection in known around the world. The Italian magazine Antiquariato published an article in its October 2009 issue on how highly valued Italian glass is amongst collectors and dealers alike. Three of our vases were featured in this article.
Some of the 20th century's most influential artists turned their hands to jewelry design. Here we discuss four examples in the October 2009 Art + Auction. Note our wonderful Bertoia and Calder brooches.
Our fabulous and unsual Mauboussin Ebony and Gold Watch snagged the front cover of VOGUE JAPAN for the month of June 2009. Check it out. And if you think that the watch will look just as great on your wrist as it does on the model's, then it can be yours for $5,800. The watch is in 18k gold and still has its original leather strap. We also have its original fitted box. Contact us the gallery if you are interested.
Our magnificent table by Gilbert Poillerat is featured in the February 2009 of Architectural Digest (on newstands now!). Poillerat was one of the most important designers of the 20th century. We have other pieces by this wonderful designer available in the gallery.
2008
ForbesLife magazine (December 2008) included PRIMAVERA GALLERY as the "place to go to" if you are thinking of starting an Art Deco jewelry collection which the magazine believes has "timeless allure" and is a "timely investment." See their article "Rocks Solid" for great advice on the subject then visit our gallery to see the beautiful and important Art Deco jewelry designed by Despres, Templier, and Dunand featured in the article.
Both Wendy Moonan (Antiques: Nostalgia So Soon, October 3, 2008) and Benjamin Genocchio (Weekend Arts, Classic Modern: 20th Century Antiques, October 3, 2008) of The New York Times, fell in love with our Phillip Lloyd Powell carved walnut dresser as seen in our booth at the International Art + Design Fair. Genocchio wrote, "Beautiful, elegant objects abound, beginning at Primavera with a hand-carved wood chest of drawers (from the 1960s) by the American designer Phillip Lloyd Powell, who produced no more than a 1,000 pieces of furniture. Low to the ground, it is very organic looking, in the manner of the best Art Nouveau pieces. It was bought from a Parisian antiques dealer who acquired it from an expatriate American."
"RAVISHING, NOT RETRO" is what Judith Gura titled her article, in the October issue of Art+Auctionmagazine, when referring to our upcoming jewelry exhibition, "Jewelry from the House of René Boivin and Other Notable French Jewelers 1950-60s".
New York Social Diary featured our beautiful booth at the International Art + Design Fair in the article Dark Cloud Consensus, October 3, 2008.
Our Nekton Benches (2006) by Zaha Hadid have been causing a stir in the Press. They were featured in Antiques+Arts Weekly (September 19, 2008) and on VISTA's Art and Design website.
The Palm Beach Illustrated (February 2008) featured our complete Desny cocktail set. This is something that belongs in a museum because it is so hard to come by the entire set: coupes, tray and shaker! Come see it for yourself on display at our gallery.
Isn't she lovely? Yes, that is Kate Moss modeling jewelry from Primavera Gallery in the February 2008 issue of Vogue Japan.
Renowned author and jewelry historian, Lori Ettlinger Gross called our exhibiton, Not Your Mother's Jewelry, "a brilliant dose of inspiration" on her blog Jewel History at http://www.jewelhistory.com/?p=201. She also praised our current exhibition, Mineralogy 101, in her "Newsy Bits" at http://www.jewelhistory.com/?p=369.
Our Brass and Beige Table Lamp by Ado Chale caught the attention of San Francisco's elite, at SF20, as Catherine Bigelow writes in The Bigelow Report.
The Palm Beach Post (January 27, 2008) states that Art Deco Adds Panache To Any Home… "Regardless of the decor of your home, if you 're interested in Art Deco, you can find something to suit the space." says our very own Audrey Friedman. The ebonized pear wood armchairs by Adnet, the Maison Desny table lamp and the Puiforcat tea-and-coffee service are all available at Primavera Gallery.
2007
2007 WAS A BUSY YEAR FOR PRIMAVERA GALLERY! Take a look at all the publications that we were featured in! What a thrill to see Marc Jacobs on the cover wearing a great Art Deco pendant by Jean Despres that he purchased from us!
No-one did spirals like Calder – perfectly proportioned, and stunning in its simplicity.
How nice to be in Town and Country as a source for jewelry by Alexander Calder. His pieces so rarely come on the market.
Have you seen our fabulous Andrew Grima bracelet artistically used on the cover of departures? This is an exceptional bracelet – one of the best pieces of his that we have had.
Etienne Cournault was an artists who did reverse-painted glass, and his pieces are rare and wonderful. He worked in collaboration with Jean Despres to produce some extra-ordinary jewelry.
Animals and insects have long been popular subjects for jewelry – see some of our beautiful examples in this article.
These wonderful, sensual Lips have been loaned to many museums, and received a lot of publicity.
Art and Antiques Magazine recently wrote about our collection of Gio Ponti pieces in "Industrial Strength" (11.01.2007). This article is not to be missed for collector's of Ponti's work.
The Magazine Antiques interviewed Audrey Friedman for their Collecting 101 column. See "Not Your Mother's Jewelry: A Conversation with Audrey Friedman of Primavera Gallery" from October 2007.
PRIMAVERA GALLERY was praised in "Granny's Tasteful Old Gold," a review that was featured in New York Social Diary on October 15, 2007, for our exhibition at The International Art + Design Fair.
Wendy Moonan, of The New York Times, announced "PRIMAVERA MOVES" in her Antiques column, May 18, 2007. "After 35 years on Madison Avenue, Primavera Gallery has moved to a large, light-filled space in Chelsea on the eight floor of the 210 Eleventh Avenue, at 25th Street. Primavera has long specialized in the late -19th-century and 20th-century decorative objects (jewelry, glass, ceramics, silver), paintings and furniture, like Poillerat, Pascaud, Arbus, Adnet, Chareau, and Printz. Unlike most dealers in the decorative arts, the owners, Audrey Friedman and her husband, Haim Manishevitz, also have vitrines full of antique jewelry, from Bulgari, Boucheron, Chaumet, Cartier, Mauboussin, Verdura, Suzanne Belperron, Seaman Schepps and Jean Schlumberger. 'Our emphasis is on signed pieces from Art Deco through the 1950s, not large diamonds or masses of precious stones,' Ms. Friedman said. The shop also has a large selection of French and Italian glass, from Daum, Emile Galle and Lalique to Venini; and modern lamps, which may explain the gallery's popularity with decorators.